Following in the footsteps of goblin mode and all its deviant glory, this latest trend is yet another rebellious buck against the new wave of self-optimisation that most of us are sick and tired of seeing on our feeds.
Hot on the heels of #goblinmode, a direct departure from the self-improvement movement that's defined the past two years and counting, feral girl summer is here to prove just how deeply we've delved into our unhinged era.
Similar in ethos yet far more disruptive, the latest trend that's currently making the rounds online encourages us to take our deviance to the next level.
Rather than giving up and hibernating in the hazy safe space of doing nothing at all, we're to take our nihilism outdoors, to 'normalise being fucking weird, annoying, and free' in public à la Julia Fox.
I can't say I'm surprised, really, and it's most certainly a breath of fresh air amid the relentless pressure to achieve perfection that's somehow become commonplace during a literal pandemic, the demise of our environment, and another world war.
But what exactly does it involve and are you ready to embrace your untamed side? Let's break it down.
For starters, I'm sure I'm not the only one who's completely burnt out from a lockdown spent trying to better myself. In fact, for almost the entirety of my 20s, I've been regularly trying to wake at the crack of dawn to exercise, partake in ten-step skincare routines that tend to go out the window mere days after I adopt them, and practice mindfulness, meditation, and manifestation.
That's in addition to a full working week and finding time to feed myself, relax, and socialise.
On this note, it may not come as a surprise that I don't consider myself 'that girl,' one who's able to roll out of bed, scrape their hair into an incomprehensibly aesthetic messy bun, and optimise their periods of self-care all before they even begin to girlboss.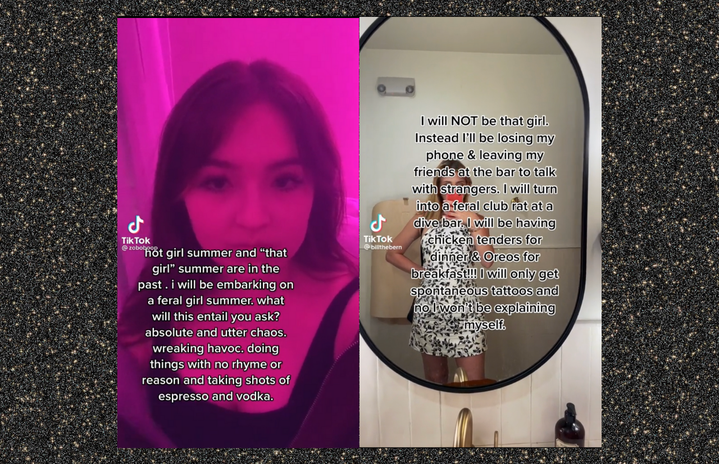 Fortunately, it seems I'm not alone.
The antithesis of an arguably deluded notion that we'd return to society from the blurry chaos that's been 2020 to 2022 in our prime, #feralgirlsummer (which has so far amassed over 200,000 views on TikTok) is the by-product of our collective fatigue towards the state of things at present.
It doesn't require a punishing gym subscription, SHEIN hauls that'll make you feel guilty for your contribution to the climate crisis, or a list of self-help books you'll never get round to reading.
It's a state of mind, a rejection of a niche that's generally dominated by thin blonde ladies with beautiful, tidy apartments and the kinds of morning schedules­ that mental illness plays no part in.