X, formerly known as Twitter, continues to slump in engagement under the management of Elon Musk. Is there a way to stem the continuous decline, or is the platform living on borrowed time?
On reflection, surely L would have been a more appropriate title for Elon Musk's Twitter rebrand.
Since the tech tycoon acquired the rights to the blue bird in October 2022, the platform has lost approximately 13% of its daily active users, according to new research analytics from Apptopia.
Under the 52-year-old's tumultuous stewardship, an estimated 140 million monthly userbase has reportedly nosedived to 121 million with 5% slumps occurring consecutively over August and September. That's no coincidence, either.
It was during this period that Musk pushed through the ambiguous rebrand to 'X' reportedly igniting a 2,000% spike in negative daily app reviews.
'The keywords "logo" and "blue bird" appeared as top 10 keywords left in user reviews, each with negative sentiments attached to them,' revealed Apptopia content director Adam Blacker. I personally recall seeing the term 'vanity project' a whole lot too.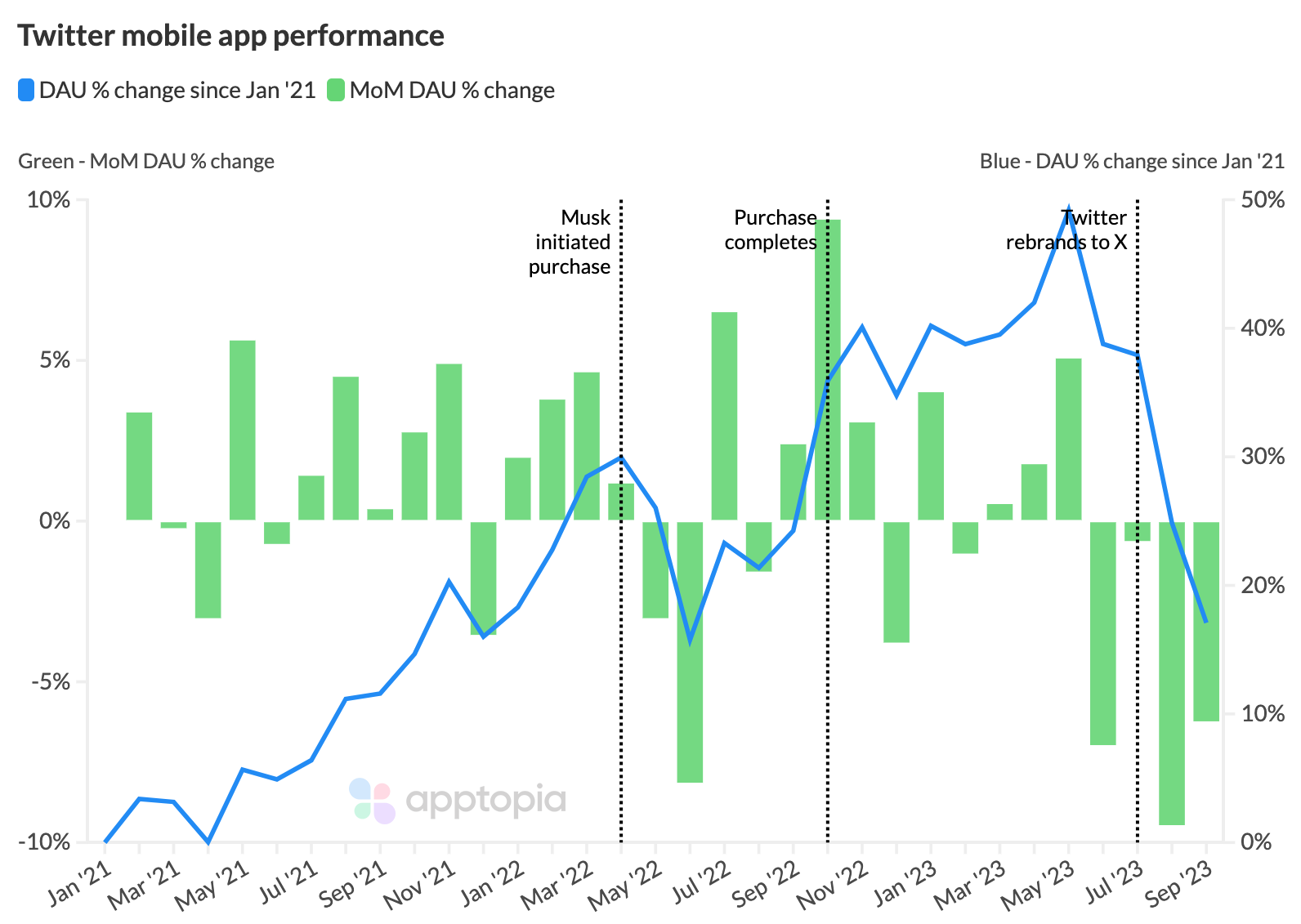 Calling shenanigans on Linda Yaccarino's (X CEO) boast that audience usage was at an all-time high in July, Apptopia's data tells a very different story. Musk's assertions about record user growth in November seem to match up at least, though those users didn't stick around for long.
Those who continue to use X, by and large, are legacy users. In-fact, the top 10% of returning visitors account for 72% of all screen time on X – categorically not a continuous flow of new users excited about possibilities brought on by the rebrand.