Though the number of people shopping consciously has soared in recent years – with Gen Z at the helm – fast fashion's demise isn't nearly as tangible as you may have assumed. Here's why.
Update: the European Union has backed a raft of new regulations to end fast fashion, including policies designed to make clothes more durable, easier to reuse, repairable, and recyclable. The text calls for the production of textile products sold in the EU to respect human, social and labour rights, the environment, and animal welfare throughout the supply chain. MEPs also want EU and national measures to put an end to fast fashion. 'We cannot continue with the current linear model, where clothing waste has tripled in the past 20 years,' Virginijus Sinkevičius, EU commissioner for the environment, oceans and fisheries, told Vogue. 'We need to address this.'
Over the course of the last few years, a plethora of headlines touting the death of fast fashion (whereby trend-led clothing is mass-produced to be sold at a reduced price on the high-street) have graced the pages of newspapers, business journals, and fashion publications across the globe.
From 'How Gen Z's shopping habits could spell the end of fast fashion,' to 'Gen Z is leading an evolution in shopping that could kill brands as we know it,' there's been no shortage of information regarding the potential demise of a sector renowned for its negative impact on both people and planet.
Though there's certainly method to the madness of course, these reports are only correct to an extent.
As ThredUP's 2020 overview revealed, the second-hand shopping market is indeed thriving – it's total worth set to hit $64bn in the next five years which will ultimately far outpace fast fashion by 2029.
And, with Gen Z and millennials adopting conscious consumerism more than any other age group, the future sure looks bright. We've also witnessed Forever21 file for bankruptcy, Arcadia go into administration, and H&M outline plans to close 250 stores worldwide to instead increase digital investment, all seemingly promising nods towards the beginning of the end for fast fashion.
It's no doubt reassuring to see data like this amid continued exposure to the industry's dark side, but it overlooks one unmissable fact: that fast fashion is, for countless complex reasons, still booming.
To begin with, despite shocking revelations of malpractice at clothing factories owned by Boohoo last year, the fast fashion giant's sales actually rose by 45% between February and August 2020.
Meanwhile, internet searches for 'cheap clothes,' and 'garments under £5' shot up 46%, an alarming trend that shows many consumers have simply turned their attention to even cheaper, faster e-commerce retailers.
It's arguably what prompted Pretty Little Thing to sell 'deep discount' pieces for as little as eight pence during its Black Friday sale, a move that sparked outrage on social media.
With affordability the primary draw of fast fashion, it makes sense that a pandemic and its onslaught of job losses has fuelled a surge in unsustainable shopping habits.
However, it's not just those who need fast fashion and insist they cannot afford alternatives that are causing the boom. Plenty are still buying into it, even if they have the means to shop elsewhere.
'Fast fashion is a problem perpetuated by the middle class and wealthy,' says fashion writer, Aja Barber. 'The poor do not collectively have the funds to keep this cycle extremely profitable.'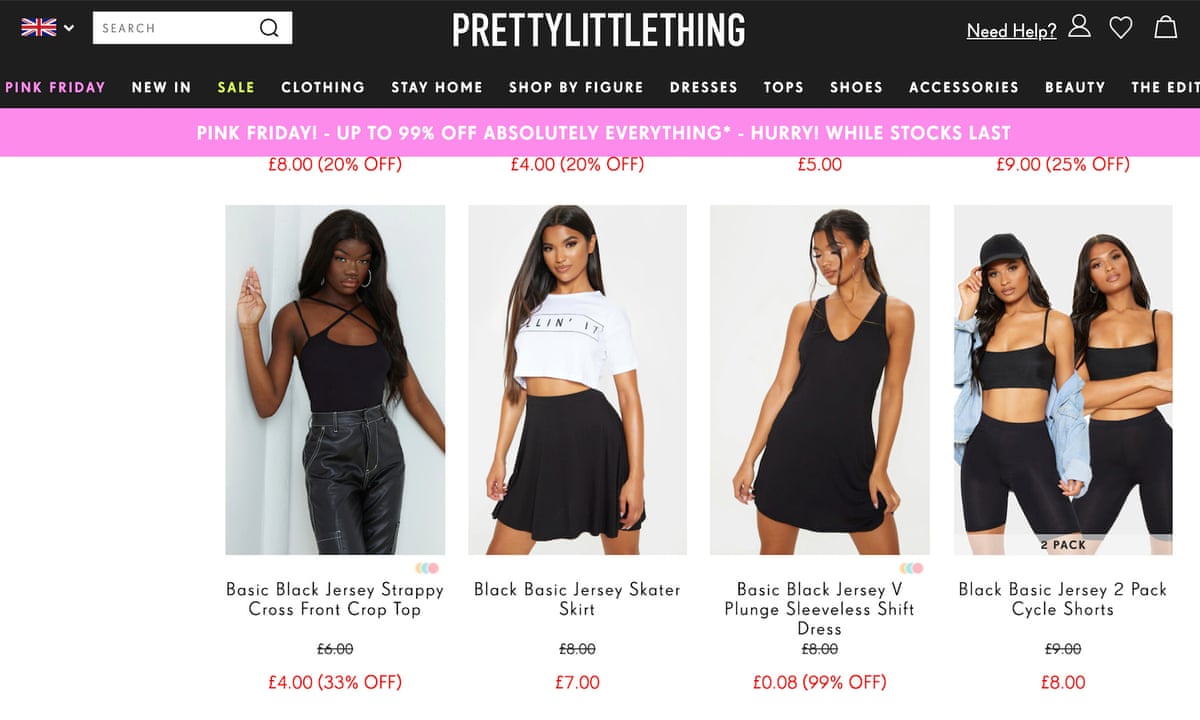 But with the world drowning in clothes and an estimated 10,000 items of clothing sent to landfill every five minutes in the UK alone, what makes fast fashion so appealing that the interest of consumers without the 'poor argument' isn't deterred? The winning formula is attributable to a variety of factors.
A large number of young shoppers choose to purchase from e-tailers due to their competitive pricing, fast flow of new styles, speedy delivery, extensive sizing options, and trend-led, influencer inspired clothing.
'When I'm bored, I go through them and I always end up buying something,' says 19-year-old Mehak Akhter who regularly posts 'haul' videos on TikTok. 'All these brands are affordable; they also offer new discounts every day which make you feel better about spending.'
It appears that TikTok is largely to blame, a breeding ground for aspiring influencers who have shaped their entire online identity around the promotion of excessive garment consumption.
'We need to bear in mind that Gen Z is currently at an age where they are still developing their identities,' says Kate Nightingale, head consumer psychologist and founder of Style Psychology.
'That means they need to try different skins on to learn who they are, who they want to be, and how people react to them in these various skins. That, coupled with their not fully developed impulse control, makes them more susceptible to a lot of these subconsciousness-affecting and impulsiveness-inducing tactics.'