If this year's COP summit taught us anything, it's that young people are the key to climate justice. For this reason, we asked a collection of changemakers about their expectations, concerns, and takeaways before, during, and after the event.
Today's youth are the least to blame for the climate crisis, given they've been around for less than two decades. Without drastic changes, however, they will be the ones left to cope with a future increasingly dominated by heatwaves, storms, and floods.
It's for this reason that on the fifth day of COP26 – a day dedicated to youth and public engagement – the real force for change wasn't in the conference hall, but on the streets of Glasgow.
Locked out of the negotiating rooms (for the first time in ten years) by world leaders perfunctorily praising them, thousands of young people gathered to protest their right to have a say.
It's a say that's deserved, too. Gen Z fervently engage with policy and climate science in a way that previous generations haven't, pushing for honesty and meaningful action from their leaders.
Amid a formulaic series of talks, where global politicians thanked them for their work while squabbling over semantics and continuing to push forward inadequate climate pledges, young people refused to let themselves be tokenised and made it clear their voices wouldn't be side-lined.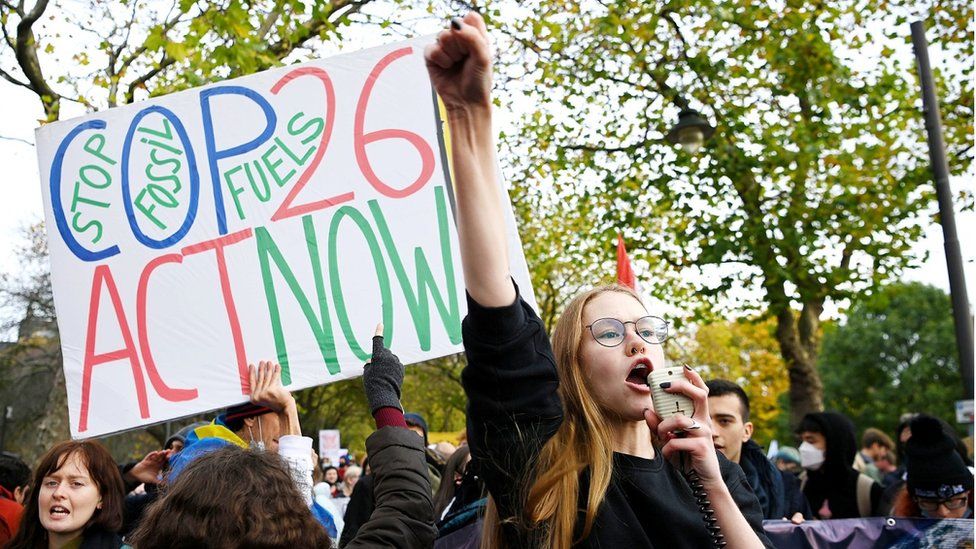 The strikes clarified how young people serve as a catalyst for idiosyncratic and radical change, a sentiment echoed by former President Barack Obama who, during his speech, said 'the most important energy in the movement comes from young people as they have more at stake than anybody else.'
'To all the young people out there – I want you to stay angry. I want you to stay frustrated,' he added. 'But channel that anger. Harness that frustration. Keep pushing harder and harder for more and more. Because that's what's required to meet that challenge. Gird yourself for a marathon, not a sprint.'
A valid point indeed. With recent studies showing that 75% of young people find the future frightening and 65% believe their governments are failing them, today's youth are primed for a fight.
Who better, therefore, than to speak with about this year's COP summit?
Here, we had the opportunity to ask a collection of changemakers about their expectations, concerns, and takeaways before, during, and after the event.
Pre-COP26: Emma Greenwood and Luisa Neubauer
When she was just 15, Emma Greenwood organised Manchester's largest ever climate strike. In the two years since, she's become a digital outreach co-ordinator for the Friday's For Future movement and has raised environmental issues in the UK Youth Parliament where she sits as an MP for Bury.
Like many Gen Zers, Emma is striving to reduce her own environmental impact, encouraging others to follow suit by urging schools to ban single-use plastics and improve their recycling programmes.
At COP26, deeming it crucial that young people understand the importance of using their voice to ensure communication between generations on the topic of climate justice, she campaigned for greater youth involvement.

Thred: Many say that the pandemic has acted as a 'reset period' for society, that crises are often the breeding grounds for renewal. Do you think this time of reflection has allowed us to come to terms with the gravity of our current environmental situation? Will this be represented at COP26?
Emma: As always, it was good while it happened but we're living in such a short term society where it's easy for people to forget how important it was. I do hope that we see it at COP, especially economically.
I don't think we've ever seen such an international impact as that of the pandemic so it's a real opportunity for us to go 'right, what can we do to internationally work together in the climate fight just as we have with COVID-19?'
We'll have to wait and see whether that plays out.

Thred: How are you campaigning for greater youth involvement at COP26?
Youth voices, in my opinion, are the most fundamental part of climate policy and action because I think adults find it easy to distance themselves from the effects of the crisis.
Emma: They don't feel quite as immediately threatened, yet we're the ones that are going to be dealing with the impacts of any decisions made so it's our right to have a say and the ability to influence what our future will look like.
At the moment there's a lot of tokenism, adults saying 'you're doing really well but we're not listening,' despite the fact that young people can offer a really interesting viewpoint. If we combine having an outlet and being able to speak openly with the capability of adults we could achieve perfect equilibrium.

Thred: How can we keep the momentum going and hold the necessary people accountable post-COP?
Emma: When we come together as collectives to send a message, it's when the most change happens. These networks of people passionate about the same things and standing on the same values have so much power.
Post-COP26 I'd recommend getting involved with local climate groups, any sort of campaign digital or in-person. Also, don't be scared that you won't know enough because everyone's in the same position and try not to feel entirely responsible.
The climate crisis isn't something that everyone's 100% clued-up on and it isn't something that you yourself have caused. So, put pressure on businesses, organisations, MPs, and who you buy from. Use the power you hold as an individual on a grander scale.
Let your lived experience of the climate crisis and what you want to see happen be enough. Your voice has meaning so find the confidence and passion to use it and you'll meet so many with the same values.

Thred: If you had the power to make one change to help solve the climate crisis what would it be?
Emma: Intergenerational change. To merge the work of all generations, old and new, rather than seeing it as a polar divide.
It shouldn't be a race issue either because the climate crisis is a human existence issue. There's no characterisation that'll make it more prone to being an individual issue, it'll affect us all and we need to put that first and go 'ok what can we do to solve this and work together?' At the moment that collaboration isn't there.
COP26 is a great opportunity for all sides of the political spectrum to come together and put their differences aside because that's what we ultimately need.
25-year-old Luisa Neubauer – the 'German Greta' – has been a youth ambassador at ONE since 2016 (a non-profit advocating for policies that benefit those living in conditions of extreme poverty across the globe), founded the German branch of Fridays For Future, and last year won a lawsuit against Angela Merkel's government over its insufficient action to tackle climate change.
At COP26, she focused on growing solidarity in the global climate movement, telling the New York Times that the strong turnout for protests showed 'what a human movement on the street can look like.'

Thred: What are your thoughts on the pandemic-induced 'reset period' and its influence at COP?
Luisa: Coronavirus has been this big moment where people from the stillness realised how vulnerable we are to ecological and environmental changes, that we won't solve global crises with elite answers only.
Others, however, have used the pandemic to avoid action because they feel as though people have suffered enough under restrictions. Those who want to act will find great reasons and great examples of how much it's taught us and those who don't want to will find a way to delay.
To this I say that we need to come to terms with the fact that the crisis is there and we must act whether we like it or not. We can keep making excuses or we can stop wasting time and get started on solving this together as a collective.

Thred: What change would you most like to see at COP26?
Luisa: When it comes to the climate crisis, COP hasn't necessarily been the most helpful institution in the past.
It is, however, the only climate conference we have on this scale so of course it's worth getting out of it what we can and making it a space that's actually useful in our fight. It's a job delegates from the countries and governments attending won't do for us so it's up to the activists – especially those who can't attend.
On this note, we must always think 'who's not in the room, who should be heard, who's voices should be amplified?' It's a very activist thing to say, but 'give the stage to those who are unheard.'

Thred: Do you think the goals set to be laid out are ambitious enough?
Luisa: Look at where we are. We're heading to 2.7 degrees. They've promised funds to the most vulnerable, so-called loss and damage, but this hasn't happened. Neither will it in the foreseeable.
States have promised to update national climate data, but they've failed to do so. I'm not sure how helpful targets are right now because we're seeing empty promises and targets un-met. Maybe we can for a moment acknowledge that targets and promises are an important discussion to have, but right now we need to see action.
We need mechanisms for governments to be held accountable and a new understanding of what global responsibility means today. We cannot be talking about climate justice while failing to meet the financial requirements, while failing to tackle emissions.
COP will be the place where we as activists call this out and demand the end of empty promises or summits that amount to nothing and instead push for the beginning of real action no matter how uncomfortable it may be.

Thred: Gen Z is suffering with a debilitating fear of our climate emergency known as eco-anxiety. Do you have any advice on how to involve yourself with this activism without letting it consume you?
Luisa: I hope that people don't feel scared by their own anxiety but feel that it's the most rational and true emotion right now. It takes a lot of courage to acknowledge where we are and what we're heading towards.
This is something that a lot of the older generations are scared to do. They're still in denial. So admitting that there is this fear is very powerful and we shouldn't let others take that away from us. We need them to acknowledge that yes we are feeling this, we are breathing this in and out, and accepting it.
We must create spaces where we empower ourselves and others, where we acknowledge the fact that we are not alone in this. The future is what we make of it, what we say, what we do – that's our job.

Thred: How can we keep the momentum going and hold the necessary people accountable post-COP?
Luisa: The personal change that we need to see is people starting to do the things they never wanted to do: the uncomfortable conversations.
Asking what we're doing, how we're committing to this, how we're using our voices as an institution. How are companies achieving net zero emissions? How are we inspiring our friends to join climate strikes? Real personal change is millions of people deciding for themselves 'today I'm going to make a difference, I will join a global movement, I will take to the streets.'
It's a hugely personal decision, but it's a serious one. The personal role in this starts with us acknowledging that movements are individual people with other things to do who've set other priorities towards a larger goal. It's absolutely possible, we're seeing it in real life every single day.
We need so much more systemic change until minute personal changes actually begin to make a difference on a larger scale.
During COP26: Tabata Amaral and Anita Okunde
Tabata Amaral is a Brazilian politician and education activist who co-founded the Movimento Mapa Educação organisation, which promotes education equality in Brazil.
Growing up in one of São Paulo's poorest neighbourhoods, she witnessed first-hand the effects of the climate crisis on her community.
Today, her focus is on fighting inequality in the climate change space, raising awareness about human impact and ensuring that diverse voices are recognised as a crucial part of the conversation.

Thred: If you were implementing policy, what is what is one tangible change you'd make?
Tabata: Though Brazil should be at the forefront of the conversation as deforestation rates continue to rise, our president is in constant denial.
I want to tell the world that Brazilians do care, that there are people like me in parliament fighting the fight – it's essential we share this narrative as a counterpart to the official messages of those in power. Progress isn't possible if we don't push for it.

Thred: People act when the threat of climate change becomes personal. How do we ensure that we're all working together on this, a united front in the fight against the climate crisis?
Tabata: Intersectionally.
We can't face the crisis with the mindset that the world is perfect and equal. It's a gender problem, a race problem, a poverty problem. We need to look at it from a universal perspective.
Also, get involved with elections and follow those that really speak to the areas you care most about.

Thred: Do you think there's a lack of representation and diversity at this year's COP?
Tabata: Definitely. 76% of the people that have spoken so far have been men. Yes, they should be part of this conversation, but they cannot be the entirety. So many people aren't being heard. Perhaps it's something we should hold national leaders accountable for – this lack of diversity in their delegations.

Thred: Tell us about your experiences at COP26.
Tabata: This is the largest group of young people to ever participate and it's been wonderful to see. I think it's going to make a lot of difference in the future knowing that the conversation is no longer for leaders alone to have.
Unfortunately, however, there hasn't been enough talk about how we're going to finance this transition, so going forward I hope environmental issues will be the central tenet of elections.
In the meantime, while we wait for young people to be more involved in policy, let's focus on intergenerational discussions and empowering each other regardless of age, gender, or background.

Thred: Are there any topics you wish had been on the agenda?
Tabata: People don't see the need for a minimum quota on the participation of women or minority groups, it's been very homogeneously male and white throughout. Yet if the room is more diverse, the solutions will be better, more complex. That's something we must work on for next time.
Inspiring call to action from @AnitaOkunde at the start of @designcouncil #designforplanet festival "Designers – be the climate!" pic.twitter.com/9EkRPzPdEF

— Charles Campion (@charliecampion) November 9, 2021
17-year-old activist Anita Okunde is shining a light on the impact of the ecological crisis on the developing world. She's listed as one of Forbes' top 100 environmentalists and has worked alongside the Fridays For Future movement to offer continually marginalised communities with a platform.

Thred: What are you most hoping to see at this year's COP?
Anita: I think it's really important that when we look at amplifying the voices of people of colour, we ensure that not only are we giving them a platform, but making them feel comfortable.
We also need to ensure that we're being asked to speak for the right reasons, not solely as a form of tokenism.
I definitely think there is a growing realisation now that the global south needs to be involved in this; and that's the message I'll keep pushing. Those are the voices we need in the room at our protests and at COP26.

Thred: What are your thoughts on the pandemic-induced 'reset period' and its influence at COP?
Anita: I definitely think that the pandemic was effective in allowing people to reflect on their relationship with the climate their how their choices affect the planet. My biggest takeaway is that change needs to come from the top. We don't want any more greenwashing and empty promises.