Ecologically inclined start-up Cove has released a new water bottle that appears as plastic to the naked eye – but actually is made from biodegradable food waste called PHA. It is the first of its kind, and the product is commercially available.
Amid our current climate crisis, plastic waste is an epidemic all of its own.
We're on a slippery slope to having more plastic in our oceans than fish by 2050 and each one of our discarded single-use bottles will take up to 1,000 years to decompose. It's a depressing reality, but one we still have a chance to avoid.
Beyond gargantuan clean-up operations, we need commercial alternatives to plastic bottles to ensure we aren't merely passing the buck to future generations.
Knowing the magnitude of such a challenge, an ecological start-up called Cove has created a sustainable alternative it believes can have a big impact in the coming years.
Its flagship product is an innocuous looking water bottle that feels like regular plastic. Its key USP, however, is that it's made of a variety of bioplastic called PHA – which is designed to break down when composted or within water.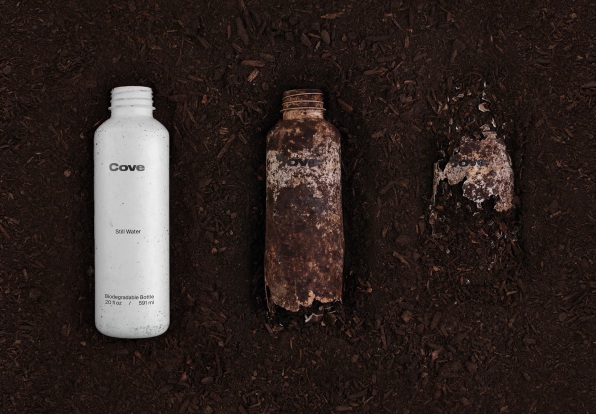 The bottle's material is made through fermentation, which involves feeding microbes with vegetable oil, sugar, food waste, or sequestered CO2, until they produce natural polymers within their cell structures.
Once this occurs, they are extracted and used to form a firm, non-toxic variety of plastic that reportedly degrades in less than five years of being tossed.
Tests are being run at the University of Georgia to examine the product's malleability in several environments; including Arctic and Atlantic ocean sediment, lake sediment, and regular soil.