With so many contributing factors, keeping track of exactly where we are on climate change mitigation is difficult. Thankfully, this new tracker provides accessible infographics on every industry and progress updates on their green objectives.
Researching how different industries are doing with their 2050 targets can be an arduous task. Take it from someone who knows all too well.
Worse than this is attempting to glean any real clarity on the whole picture of climate change mitigation. Between the alarming IPCC reports we get annually, there hasn't really been any one place to monitor progress – or lack thereof.
From today forth, however, we're excited to say this is no longer the case thanks to Speed&Scale's new live tracker.
Back in 2021, the chair of VC firm Kleiner Perkins, Jon Doerr, went through the painstaking process of consolidating the best available climate data into a single book called Speed and Scale.
If you haven't had the pleasure of reading it, this literary work breaks down the nuances of environmental policy and ultimately outlines an action plan for solving global warming.
Armed with information from leading experts like Laurene Powell Jobs and Cristiana Figueres, he outlines 10 action points – specifically, six on emission reduction and four on areas that need accelerating – to reach our 2030 and 2050 targets respectively.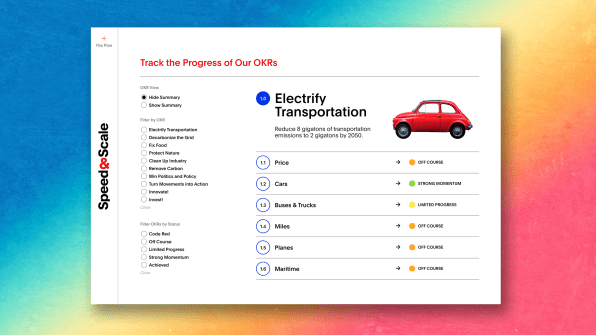 It's this information that has been compiled into a nifty online format on the Speed&Scale website. Infographics break down the overview of each objective, such as 'Electrify Transportation,' 'Decarbonise the Grid,' 'Fix Food,' 'Protect Nature,' 'Clean Up Industry,' 'Remove Carbon,' etc.