'Heroes of Blackness' is a collaborative capsule collection launched by Davis and Renowned LA to raise funds for groups fighting for prison reform in America.
Amid a year in which fashion has become arguably more radical and political than ever before, it makes sense that as streetwear adapts, brands such as Renowned LA would want to partner with Angela Davis, one of the most archetypal civil rights leaders of our time.
In a move focused on giving back to its communities and paying due respect to the influential figures that've broken ground for minorities to date, the US-based label has teamed up with the revolutionary political activist, philosopher, academic, and author on a two-piece capsule collection titled 'Heroes of Blackness.'
Now able to add designer to her long list of extraordinary achievements, Davis – at 76-years of age – originally rose to fame in the 60s as a passionate campaigner for societal reform.
At a pivotal moment for fashion in which brands' commitment to diversity is being heavily questioned – and whether their dedication to express solidarity with BLM back in May is being upheld, Davis praises founder John Dean's creations for urging us to acknowledge the historical struggles of people of colour and advocate for their advancement.
Dean believes that the real work starts after the protesting ends and wants to encourage us to keep pushing for equality and committing to making a change, not solely for ourselves, but for future generations. It's for this reason that a portion of the proceeds from the partnership will go directly to abolitionist organisations Underground Grit and Dream Defender.
The former is providing re-entry services to incarcerated individuals and the latter aims to dismantle America's outdated police and prison systems.
Including a t-shirt and hoodie that both feature images of political leaders and logos alongside the phrase 'we not asking no more' and the word 'dismantle,' (one that encapsulates 2020 well) the collection is said to have been influenced by Black political leaders, in addition to The Black Panther Party and its co-founder Huey P. Newton.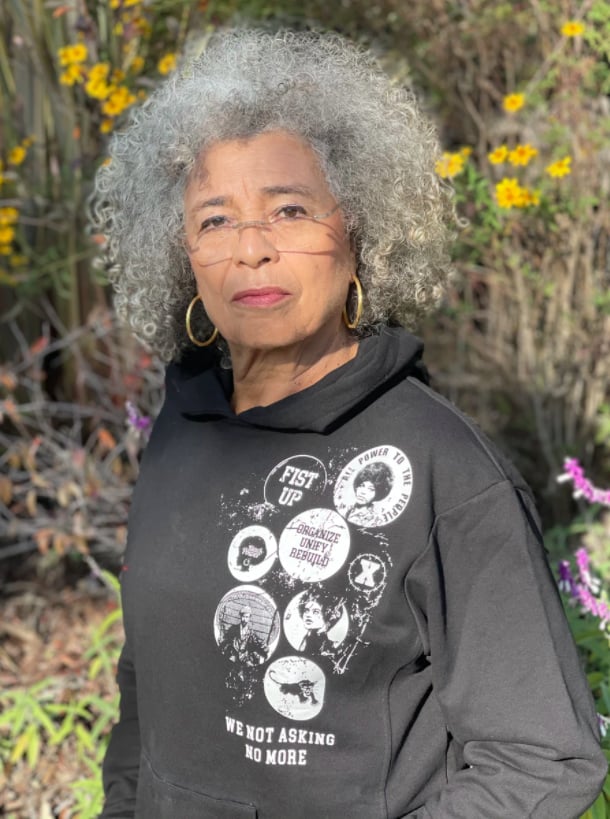 2020's victims of police brutality – specifically George Floyd and Breonna Taylor – have also been sewn into the t-shirt's tag as Dean 'wanted to create something physical as a way to honour and keep their names alive.' There's also the collage design which sees vintage photographs of Davis emblazoned with the words 'black power, organise, unify, and rebuild' because who better to be featured as part of the collection than the icon herself.
'Working with Dr. Davis has been surreal. She has dedicated her life to Black liberation. This collection will be a piece of history for her and all who stood against oppression. It's only right that I continue her legacy,' Renowned said on Instagram.
The brand added that for the collaboration, it tapped the talent of various independent Black artists who were tasked with creating images that embodied this rare moment in fashion and civil rights history. 'The goal of this piece by Kenyan @tara.light, for example, was to create a collage of symbols representing the movement and those who have come before us,' finished the post.
'Heroes of Blackness' is available now, ranging from $35 for the t-shirt to $75 for the hoodie. And if you're looking for other ways to support black-owned businesses, here's how.