In a year that has been anything but stable for crypto, more than $1bn has been scammed from digital traders. This puts 2022 on course for a worrying record, according to the FTC.
Enthusiasts are finding it harder by the day to defend the integrity of decentralised financial platforms.
The blockchain dream seemed a little too good to be true in its infancy, and its lack of stability is now grabbing headlines for all the wrong reasons.
Amid the ongoing crypto crash, which recorded devastating losses of $600bn in just one week, a report from the Federal Trade Commission has just revealed that crypto coins have become more entangled in scammer practices than ever.
The FTC says approximately 46,000 victims of digital grifting contacted them with combined losses of over $1bn between January 2021 and March 2022. That means in the first quarter of this year alone, numbers have superseded roughly half that for the entirety of 2021.
The report notes that the reality of the situation is likely worse too, as a large number of targets don't reach out to the FTC at all.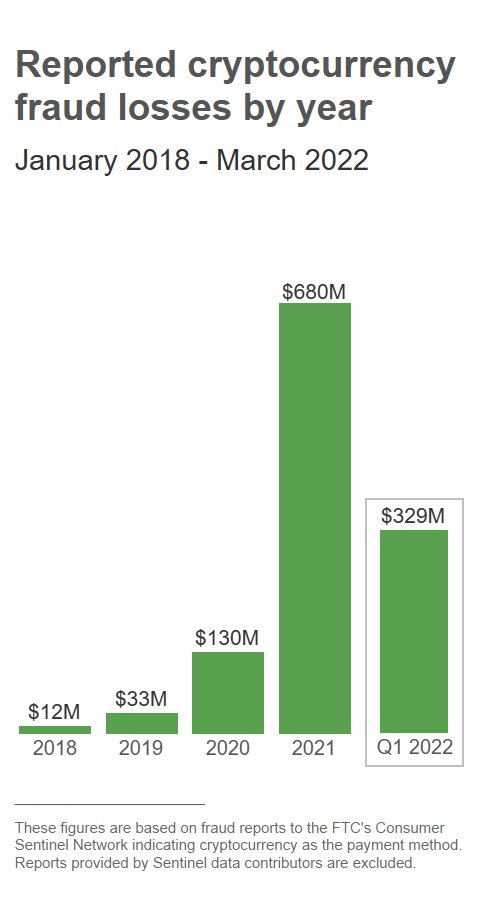 More than half of the cases that were reported relate to investment scams: where grifters promise aspiring stakeholders that their shares will return big profit – only to close shop abruptly and make off with all the assets.
Second most common, 'romance scams,' involve someone gaining a victim's trust and then acting as an intermediary to invest their coins. Obviously, this never happens and the second money changes hands, they're gone with the wind.
These are nefarious tactics we've seen plenty of way before digital trading was even around, but the recreational and spontaneous nature of crypto makes it way easier to carry out.