At the helm of fashion's reset period, designer Iris van Herpen has unveiled a haute couture dress made entirely from plastic fabric produced by Parley for the Oceans.
Neither tradition nor a global pandemic can hinder progress it seems.
Yet another step forward amid fashion's moment of reckoning (brought about by the disruptions of 2020 as well as by consumers more conscious than ever before about the industry's impact on the planet), Iris van Herpen – whose last venture proved that one-of-a-kind designs can indeed be achieved using 3D printing technology – has unveiled a haute couture dress made entirely from upcycled marine debris.
The fusing of nature with technology – and the revelation that the two have more in common than we often assume – is the foundation of Van Herpen's work.
And, in an industry that goes harder and faster with every passing season, the innovative Dutch designer is renowned for taking a deeply considered approach to what she does.
Recently debuting her most recent foray into the natural world as part of the SS21 Haute Couture schedule, Van Herpen is once more forcing us to question whether or not her garments are in fact living, breathing entities.
Dedicated to exploring and utilising new sustainable fabrications and practices, the majority of the offering has been constructed from eco-friendly materials.
Titled Roots of Rebirth, the collection draws inspiration from Merlin Sheldrake's Entangled Life, a book about how fungi and its vital place in the earth's fragile ecosystem.
The pieces themselves are a reference to the 'intricacy of fungi' and the interconnectedness of style and nature. Most exciting of all, Van Herpen has joined forces with Parley for the Oceans, a company which transforms dumped plastic debris sourced from the estimated eight million tons of waste that ends up in our oceans annually into ground-breaking technical fabrics by shredding them and reworking them into yarn.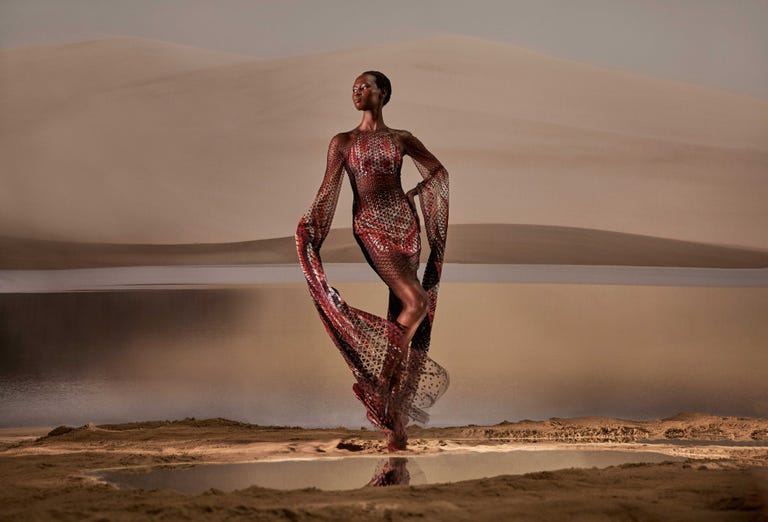 Implementing these kinds of sustainable and recyclable materials into the collections is an ongoing development in her atelier. 'Parley for the Oceans has great expertise in recycling plastic from the ocean and transforming it beautifully into soft upcycled fabrics,' she says. 'The quality of their fabrics is really refined, and therefore perfectly suitable for haute couture also.'
For the dress, the designer first printed the fabric before laser-cutting it parametrically into fine triangle tessellations, in order to create a 'translucent and fragile interconnectedness' with the skin.
'It's mesmeric to see such fine fabrics that were made from 100 per cent recycled fabric from the oceans,' she adds. 'When most people think of recycled fabrics, they think of stiffer, less appealing materials. But that is history now, partly thanks to Parley – the quality of the recycled fabrics is now so high that it is usable for even high-end couture looks.'
Van Herpen goal is to eventually make her collections from 100% recycled materials. Until then, it appears as though we'll have to make do with swooning over the SS21 collection in all its natural glory.