After one of the most contested campaigns in the country's recent history, ex-rebel Gustavo Petro has won the election with 50.47 per cent of the vote.
Gustavo Petro, long-time legislator, and a former fighter in the M-19 militia who's promised profound social and economic change, has won Colombia's presidential election with 50.47 per cent of the vote.
The victory makes him the South American country's first leftist head of state and underlines a drastic shift in the political landscape of a nation that's long marginalised the left for its perceived association with the 52-year armed conflict.
It also comes amid a growing distrust of key democratic institutions, which has become a trend in the region (Peru, Bolivia, Chile, and Honduras are all part of the new 'pink tide').
After one of the most contested campaigns in recent Colombian history, Petro beat business mogul Rodolfo Hernández by galvanising voters frustrated by decades of poverty and inequality under conservative leaders.
During his time in office, he has pledged to expand social programmes, offer free university education, tax the wealthy, and move away from an economy he deems overly reliant on fossil fuels.
The latter being an attempt to gratify environmental activists concerned with high levels of deforestation in the Amazon, which is an integral buffer against climate change.
Also high on his agenda will be Colombia's fragile peace process with the leftist rebels of the Revolutionary Armed Forces of Colombia (FARC).
Signed in 2016, it formally ended five decades of civil war that killed more than 260,000 people and displaced more than 7 million.
His aim is to increase governance and basic services in historically conflictive areas, namely the neglected countryside where armed groups and coca continue to thrive.
'As of today, Colombia is changing, a real change that guides us to one of our aims: the politics of love, of understanding and dialogue,' he told his supporters upon winning.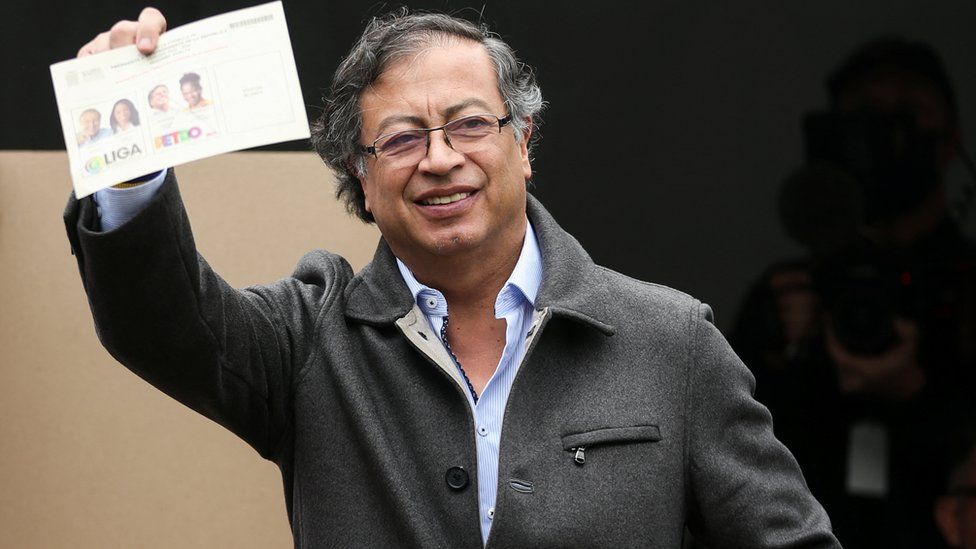 'From this government that is beginning there will never be political persecution or legal persecution, there will only be respect. I will listen to not only those who have raised arms, but also to that silent majority of peasants, Indigenous people, women, youth.'