The UN has warned that only a 'massive' and immediate scaling-up of funds and humanitarian relief will avert rapidly escalating levels of malnutrition across the country.
Following reports that Somali children are starving to death in front of aid workers, the UN has issued a warning that only a 'massive' and immediate scaling-up of funds and relief can save the country from famine.
According to the intergovernmental organisation, upwards of 7.7 million citizens are currently in dire need of help, a similar number to those affected by one of the worst humanitarian disasters in history, which took place in Ethiopia during the 80s.
To put into perspective the gravity of the situation, recently elected President Hassan Sheikh Mohamud used his inauguration speech to appeal for the diaspora and the world to play a role in saving his people.
'These conditions were caused by accumulated problems including climate change, destruction of our economic resources and the weakness of our government institutions,' he said.
'Therefore, my government will establish an agency for environmental matters.'
As touched upon by President Mohamud, the catastrophic and rapidly escalating levels of malnutrition countrywide are said to be a result of severe and prolonged climate change-induced drought (which has seen the Horn of Africa experience three successive years of failed rains).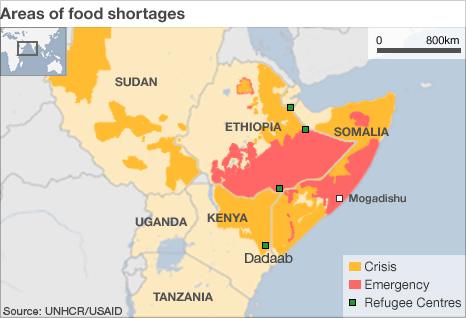 That's in addition to skyrocketing global food prices, longstanding political and social fractures, as well as the ongoing conflict between Russia and Ukraine.
The latter has had an unprecedented impact on Somalia, which gets 90% of its wheat – making up two-thirds of the Somalian diet – from that region.
Not only this, but the cost of cooking oil, beans, rice, and sugar have also doubled from the war's secondary consequences.
'The war in Ukraine has, combined with the climate crisis, the impact of the COVID-19 pandemic and the unequal recovery, created a perfect storm of needs in developing countries,' says UN Deputy Secretary-General Amina Mohammed.