A prime example of the talent, discipline, and patience it takes to become a household name as an artist, Gen Z creative Alaia De Santis shares her advice on how to succeed in the industry.
22-year-old fine arts graduate Alaia de Santis has come a very long way since realising the only means of expressing herself was by turning her ideas into works of art as a teenager.
Having been featured in numerous exhibitions and gallery shows across London and New York for her films, paintings, and collages, Alaia is a leading example of how unrelenting dedication to a craft you truly love can amount to success.
I chatted to her recently about her experiences, where she hopes to take things next, and even managed to pick up some tips for aspiring Gen Zers looking to make it big as artists.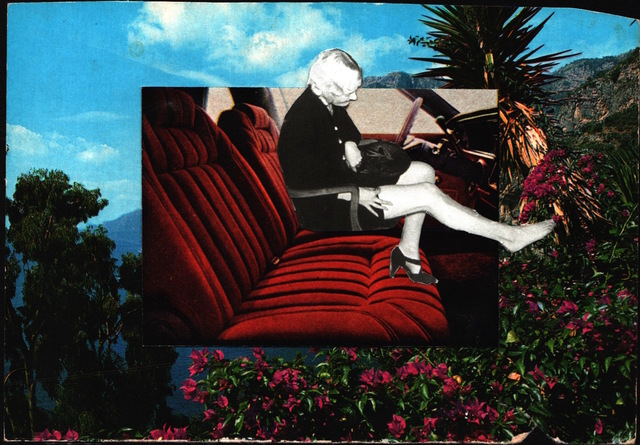 A rising young talent in the industry
Recently recognised by Forbes as a 'rising star to watch' within the art world, her talent is evident.
Through a vast combination of mediums including oil paint, clay, collage, and film, Alaia explores the history of popular images and iconography, attributing her explorative nature to the multi-faceted way in which she approaches her work.
'I've always been an explorer, so I let that guide my practice,' she begins. 'As a young artist, I keep a diverse and open mind to all media, often challenging my own understanding of an artist's tools.'
Looking like a seventies magazine spread come to life in an abstract barrage of architecture and fashion, Alaia's most popular pieces are her collages.
Drawing inspiration from absolutely anything whether it's a 'banana on the floor to a silhouette at a party' as she tells me, for her, collages form their own stories, mixing different characters and settings to bring out a whole new narrative.
Touching on an uncanny kind of familiarity juxtaposed with commercial surrealism, it's this unique and undeniably engaging approach, alongside her instantly recognisable passion for what she does, that makes her work all the more compelling.
Viewing the creative process as her 'own personal treasure hunt,' Alaia also strives to find stimulus in the stories attached to objects and, through her art, propose the next chapter.
'There's something beautiful about the feeling of pseudo-nostalgia when I look at old images,' she says. 'They depict moments I have never known, but they feel alive in my own imagined reality. I find myself enchanted by stories of the past, particularly the ones that live on until now.'

Using art for therapy and self-care
Beneath the eclectic and vibrant surface of her work however, there exists an underlying theme.
Alaia is acutely aware of how cathartic the creative process can be and considers art 'the best kind of medicine' for anyone dealing with anxiety or other mental health conditions. Regarding her own experience with this, she explains that her paintings are how she deals with emotions and examines her personal relationships.
For this reason, a collection of Alaia's paintings are titled with anagrams of people's names, which she says is also to do with how much she enjoys mysteries and puzzles – 'something for the viewer to solve.' Able to transform uncomfortable or negative thoughts and memories into art, she deems it a highly effective method of regaining control.
'It's a good way of getting things off my chest,' she says. 'When I'd paint, I'd feel a weight lift. It's personal, and no one will ever know the whole truth, but it means I don't have to carry pain with me, it's released into the world and I'm controlling it – it doesn't control me.'
It goes without saying that Alaia is a force to be reckoned with in an industry that's evolving every single day, particularly given her understanding of the importance of social media when building a fan base.
Though striking bold canvases are a sure-fire way of attracting eyes on platforms such as Instagram, becoming a household name as an artist is certainly no easy feat, but Alaia is determined that with patience and a committed mind-set, one can achieve anything. 'You are confined only by the walls you build,' she says. 'You are your worst enemy so don't give in to giving up.'
This is not to say that Alaia didn't face a slew of obstacles in the early stages of her journey because, as is often the case, many of her peers would urge her to follow an alternative career path, citing 'making it' in the art world a near-impossible accomplishment in this day and age.
But Alaia refused to let this hinder her, and stresses that there's no point doing anything in life that you don't love. 'I never cared because I adore it and the risks are all worth it in the end,' she says.
If I could give advice to my younger self on receiving criticism I would say: 'don't take it too much to heart.' Sometimes I'd get sad and feel self-doubtful of course, but the most important thing is to stay confident, positive and just keep going, no matter what anyone tells you.'
While adopting a well thought out approach can give you a significant advantage, it may seem obvious, but passion for a craft shines through when it's genuine and creating pieces you actually appreciate yourself is key. Alaia is emblematic of this and who better, therefore, to offer up some sage advice on how to succeed in the industry? Here are her top tips.