Amid the country's prolonged economic crisis, 76% of female citizens are struggling to afford sanitary products. Are eco-friendly alternatives posing a viable solution?
Since 2019, plummeting economic conditions in Lebanon have pushed three quarters of the population below the poverty line.
Among the many repercussions of this financial downfall – which has seen local currency lose around 90% of its value – a dramatic rise in the cost of sanitary products, whether manufactured locally or imported, has seen those with periods obliged to shoulder an additional burden.
With empty pharmacy shelves the norm and 76% of female citizens unable to afford new prices (pads and tampons now retail for 500% more than they did prior to the crash, an increase from $2 to almost $23 at the official exchange rate), many have turned to sub-standard alternatives like diapers or rags.
Not only is this wholly unhygienic, but is of course impacting the mental well being of women and girls who have no choice but to balance an already adverse quality of life with an inability to adequately cater to their menstrual health needs.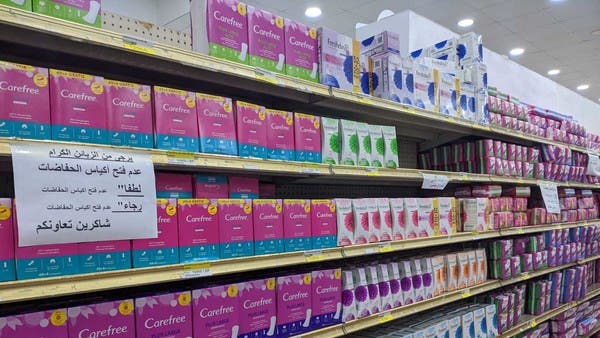 'With all the price hikes and the frustration of not being able to manage, I'd rather stop having my period altogether,' a mother of two told AFP. 'I feel completely defeated.'
However, as awareness of the issue continues to grow, a variety of solutions have been emerging at the hands of charitable enterprises and forward-thinking independent businesses alike.
One being Earthona, an eco-friendly shop in southern Beirut that sells reusable sanitary products made from fabric that can be washed and reused.
The brainchild of a 26-year-old who's passionate about both the environment and women's health, demand is so high that 800 of these sustainable alternatives have been sold since June.
View this post on Instagram
'When we started selling pads, women couldn't emotionally accept the concept due to many misconceptions about menstrual hygiene,' explains its founder, Mayssaa Cheayto. 'With the economic crisis affecting even the middle class, reusable pads have become a need rather than an option.'
Gaining traction in Lebanon, a complete switch to these once unheard of products is cost-effective in the long run, a reduction of 60-76% for every woman per year.
As a result, NGOs are considering them the answer to wider concerns of period poverty in other developing regions across the globe.
Yet this isn't without its hurdles. Unfortunately, a 2020 study commissioned by the United Nations Population Fund (UNFPA) on the practicality and social acceptability of using reusable sanitary pads in Lebanon found a host of challenges.
Namely that many women lack the resources to regularly wash fabric pads manually or feel uncomfortable and disgusted about the practicalities involved.
For this reason, rights activists stress the importance of spreading scientific knowledge and encouraging open discussions about women's bodies that can help to eliminate stigma.
'We must target this stigma and change how the female body and periods are perceived and discussed publicly,' say Elissa and Charbel of Juniper.
'We want to reinforce a safer environment within our society, in which men and women are equally informed and women's issues are no longer marginalised.'