The symbolic resolution comes in response to discriminatory policies promoted in Hungary and Poland, specifically concerning the rollback of queer rights.
Following a new vote passed in European parliament, the EU has officially been declared an 'LGBTIQ freedom zone' in protest against rising discrimination and anti-LGBTQ+ policies in Hungary and Poland where regions are opposing the 'ideology' of equality.
492 MEPs voted in favour, 141 against, and a further 46 abstained. It comes two years after the first local authority in Poland declared itself an 'LGBTIQ-free zone.'
More than 100 Polish counties and municipalities have since adopted similar resolutions, ones that discourage tolerance towards LGBTQ+ people.
Their rights have been branded an 'ideology more destructive than communism' by right-wing President Andrzej Duda who, despite waves of protests, has presented a serious threat to the community for almost six years.
Though joint adoptions by same-sex couples are already illegal, his government recently announced plans to close a loophole and permanently ban LGBTQ+ citizens from adopting children as single parents.
Essentially, if a person is found to be applying as a single parent when they are in a same-sex relationship, they will be criminally liable.
In Hungary, LGBTQ+ people are facing parallel opposition from far-right Prime Minister Victor Orbán, who, late last year, enforced the same restrictions alongside laws that stop transgender people from legally transitioning within the country. Individual regions have also begun to prohibit the 'dissemination of LGBTQ+ propaganda.'
Those supporting the largely symbolic move say that people 'in the EU should enjoy the freedom to live and publicly show their sexual orientation and gender identity without fear of intolerance, discrimination, or persecution.'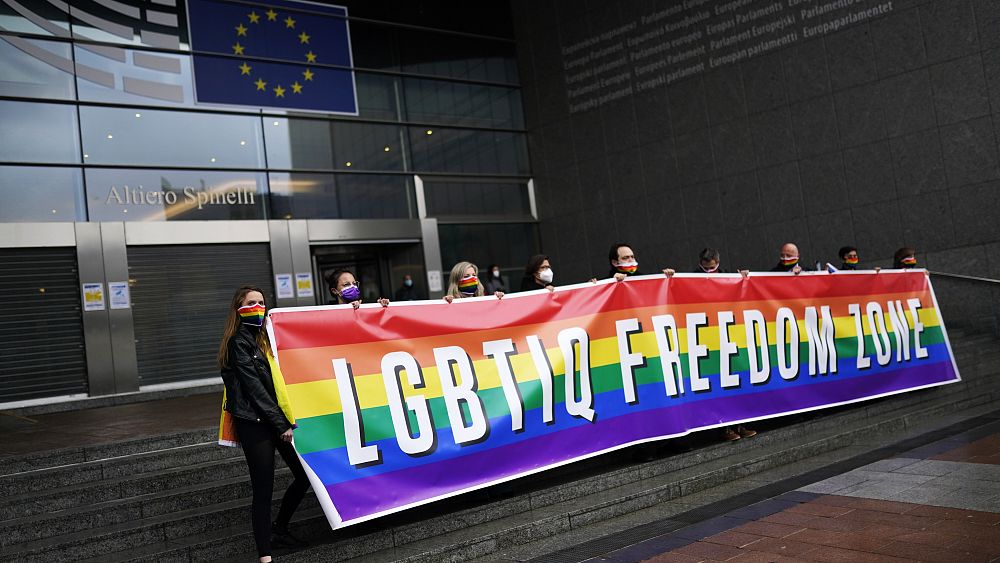 They add that authorities at all levels of governance across the EU should protect and promote equality and the fundamental rights of all, including LGBTIQ persons.