The controversial £63 million project known as 'Tropicalia' is set to be 'the world's largest greenhouse' and attract 500,000 visitors a year, but conservationists aren't happy.
Plans to construct the world's largest single-domed glass greenhouse in a grey corner of Europe have raised alarm bells at 38 eco-associations including Greenpeace, Extinction Rebellion, Attac, and Europe Écologie-Les Verts (EELV).
Named 'Tropicalia,' the enormous 20,000 square-metre plastic structure will be located on a patch of desolate land in a Northern French village near Berck-sur-Mer in Pas-de-Calais.
Expected to reach 32-metres in height upon completion, it will reportedly house a forest of plants and trees, waterfall, walking trail, Olympic-sized pool, auditorium, restaurant, and bed and breakfast for guests (among several other impressive features).
And, in order to accommodate the tropical flora and fauna that's to be flown in from around the world – the likes of which comprises many rare species of African and South American fish, amphibian, bird, butterfly, and reptile – developers claim the dome's protective layer of ethylene tetrafluoroethylene (an innovative heat recycling technology) will keep the atmosphere humid and temperatures inside between 26C and 28C all year round.
The controversial £63 million project, brainchild of architect Cédric Guérin who designed Tropicalia in collaboration with energy company Dakia, is hoping to entice more than 500,000 visitors a year with the promise of a 'makeshift Amazon rainforest' along the Opal Coast.
Instead, however, it has attracted severe backlash from eco-campaigners, a 200-strong coalition of whom protested at the site itself towards the end of 2020.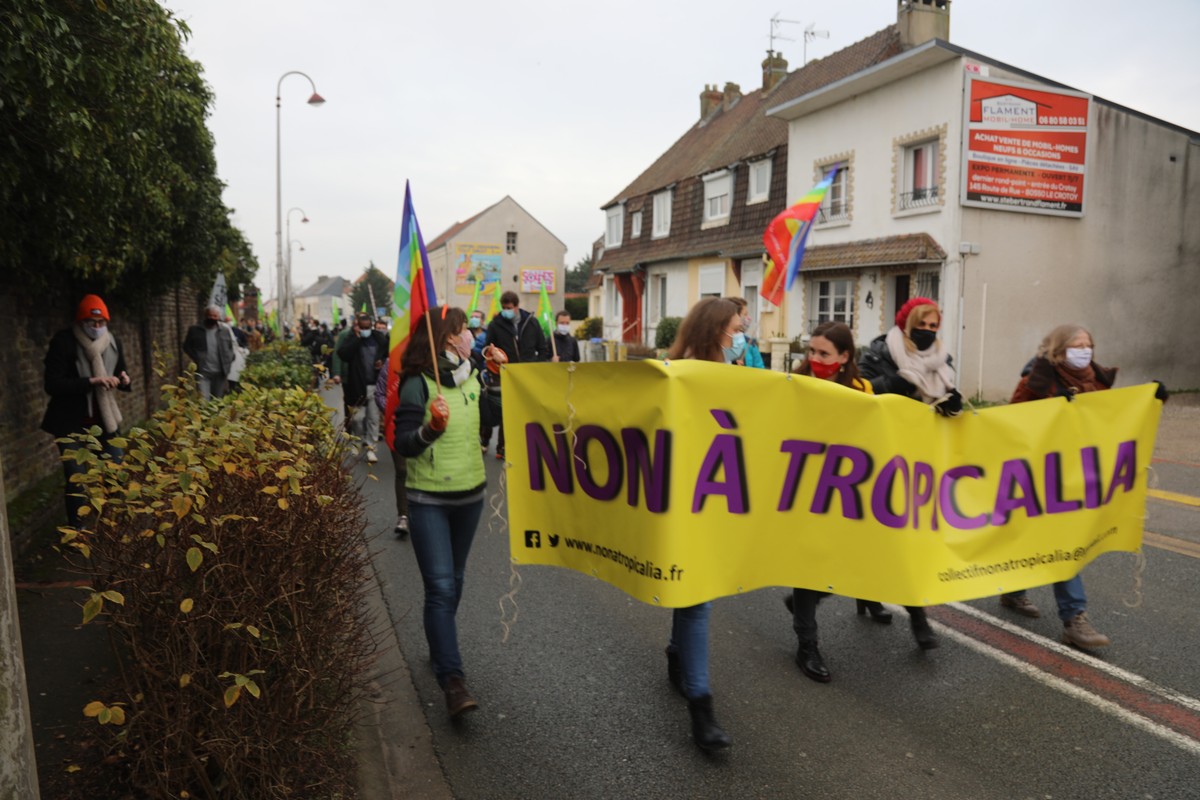 Fronted by representatives from various environmental organisations, the demonstrations were an attempt to highlight concerns that the project will most likely 'artificialise' the area surrounding Tropicalia amid increasingly crucial efforts to combat the climate crisis.
'Tropicalia's promotional materials guarantee an "immersive experience that will be an open door to understanding and respecting a fragile ecosystem," but it's not part of the fight against global warming,' argues Clementine Daveau of Extinction Rebellion Calais. 'It's an absurd vanity project that harks back to colonial times.'
Daveau is right. Not only will flying in plane loads of rare species generate a significant amount of air traffic and unnecessary emissions (as well as keep in motion the outdated captivity format of zoos) – which goes against everything climate activist groups are trying to avoid – but locals are worried about the potentially negative effect it could have in a dense urban area where the population's water needs are high.